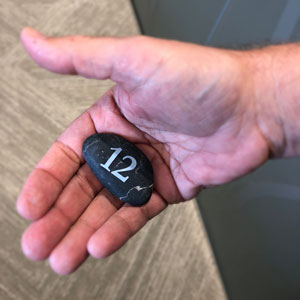 It started out as a day like any other, walking through the capital, mentally reviewing the day's agenda when a gentleman approached me. "Mr. Reeves, you don't know me, but my father was one of your patients. He passed away in November." The man reached into his pocket, sharing something personal—"He gave this to me just before he passed away." In his hand was a small, smooth stone with the number "12" on it.
We had given his father the stone as a symbol of our commitment to serving him with integrity and the highest quality of care as a hospice patient of TwelveStone Health Partners.
Making a difference in others' lives for the glory of God is the highest calling one can have. It's the foundation upon which our company was built, and the goal we strive to reach each day. Our name, TwelveStone, represents the Biblical story of Joshua leading the Israelites to the Promised Land. As they came upon the Jordon River, God told Joshua to have the priests step into the water. As they did, the waters parted and the priests, carrying the Ark of the Covenant, walked across on the dry river bottom. Once on the other side, they took 12 stones, representing the 12 tribes of Israel, from the river and laid them out as a monument to let passersby know the power of God. This is the impetus for our giving each patient a stone – to let them know the power of God in their lives.
As we get busy with our daily routines, it can be easy to get swept up in the details of the business of healthcare and state government, family obligations, and the news of the day. What a blessing it is to be reminded of why we are here, and that the work we do is making a difference.
With gratitude,
Shane Reeves
Chief Executive Officer (and State Senator)